Hotel Riederalm
5771 Leogang
© Wolfgang Garger www.garger.at
© michael Huber | www.huber-fotografie.at - michael huber
© michael Huber | www.huber-fotografie.at - michael huber
© michael huber I www.huber-fotografie.at - michael huber | www.huber-fotogr
© michael Huber | www.huber-fotografie.at - michael huber
© michael huber I www.huber-fotografie.at - michael huber | www.huber-fotogr
© michael huber I www.huber-fotografie.at - michael huber | www.huber-fotogr
Your perfect winter Holidays in the Riederalm - your Good Life Resort Leogang - directly on the slopes in the skicircus Leogang-Saalbach-Hinterglemm
The location, the house, the hosts - the hotel Riederalm in Salzburg unites these three components to a perfect winter holiday . The Riederalm is run by a warm and attentive host Family Herbst and a friendly and professional Team. With 39 comfortable rooms and suites, the hotel has a size which allows a very personal service. Ideal for a perfect winter holiday is also the location of the hotel Riederalm right next to the valley Station of the cabin car.
From the ski room with lockers, ski enthusiasts easy access on the slope and into the cabin car which takes you into the popular skicircus Leogang -Saalbach -Hinterglemm. Ski schools and ski rental shops are next door and at the reception we prepare the Skipasses for our guests. The ski area Leogang-Saalbach-Hinterglemm in the Salzburger Land with 200 km of slopes and 60 lifts, is one of the top ski resorts in the world. Grooming , snowmaking and technical equipment are on the best Quality standard, so that the winter fun is guaranteed until spring . Carving runs , moguls and powder snow slopes , fun parks and halfpipes offer plenty of variety for skiers , snowboarders and freeriders .
Enjoy the mountains, snow and sun without ski or board, for example, on a winter walk or if you go tobogganing, cross-country skiing or snow shoe hiking.
Here in the hotel we offer an unique , familiar feel-good atmosphere , relaxation at its best in our SPA & culinary pleasures on very high Quality.
Riederalm Gourmet comfort board ( various breakfast buffet , afternoon ski snack , a 5-course gourmet dinner in the evening)
Relax in SPA-area
Use of our deep-level-garage
Ski room with access to the slopes
Riederalm - weekly program
new holiday pleasure in the Riederalm
So much new, great and unique features. Spa on 2.000 m²!
Mountain Spa
In our Mountain SPA you will enjoy wellness deluxe. This SPA area is only for adults and offers peace, rest and relaxation – all with the magnificent view of the mountains of Leogang.
Leogang's first thermal pool with a length of 20 m, indoor entrance and cozy 33 ° C
New panoramic sauna (90 ° C) with a magnificent view
Plunge Pool "glacier ice"
Relax-cube with an amazing view
Pinzgauer Wasserfestspiele
water and wellness enjoyment for all generations
panoramic indoor pool "der Bergsee / the mountain lake"
with a swimming gate to the 20m long Leoganger Sport Outdoor Pool
experience waterslide guarantees fun and excitement for young and old
water paddling pool (3 x 3 meter)
dress on sauna
family-relax
gorgeous living atmosphere
You can look forward to suites and rooms with high quality furnishings from a combination of luxurious fabrics and natural materials.
restaurant - culinary hay(igh)lights...
Our new restaurants surprise with a splendid look & feel that is also devoted to our home - Pinzgau. Each of them individually furnished with loving attention for Details.
Come in at the restaurant entrance and you culinary holiday can really start. A special highlight is our exclusive wine tower with a myriad of fine wines and rarities.
service quality as before
Of course, the personal and familiar atmosphere, the highest quality from our gourmet kitchen and the charming and friendly Riederalm service remains unchanged!
book your introduction-offer now:
info@riederalm.com
Hotline: +43 6583 7342
Videos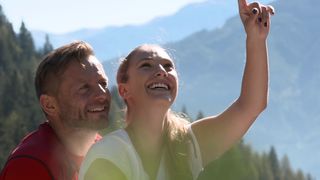 00:55
01:01
Prijzen
| Winter | Hoofdseizoen | Vor-/Nebensaison |
| --- | --- | --- |
| Overnachting | - | - |
| met ontbijt | € 150 tot € 246 | € 114 tot € 217 |
| Half pension | € 158 tot € 254 | € 122 tot € 225 |
| All-inclusive | - | - |
| Zomer | Hoofdseizoen | Vor-/Nebensaison |
| --- | --- | --- |
| Overnachting | - | - |
| met ontbijt | € 107 tot € 183 | € 102 tot € 172 |
| Half pension | € 115 tot € 191 | € 110 tot € 180 |
| All-inclusive | - | - |
Verdere informaties
Panorama room deluxe (Doppelzimmer)
| Half pension
Ortstaxe
pro Person / pro Nacht
"Die Pinzgauerin" (Doppelzimmer)
| Half pension
Ortstaxe
pro Person / pro Nacht
"Heimat" (Doppelzimmer)
| Half pension
Ortstaxe
pro Person / pro Nacht
"Almidylle" (Doppelzimmer)
| Half pension
Ortstaxe
pro Person / pro Nacht
"Spielberg" (Doppelzimmer)
| Half pension
Ortstaxe
pro Person / pro Nacht
"Der Salzburger" (Suite)
| Half pension
Ortstaxe
pro Person / pro Nacht
Family Studio "Stoaberg" (Suite)
| Half pension
Ortstaxe
pro Person / pro Nacht
The good life suite (Suite)
| Half pension
Ortstaxe
pro Person / pro Nacht
"Himmelreich" (Suite)
| Half pension
Ortstaxe
pro Person / pro Nacht
"Landleben" (Suite)
| Half pension
Ortstaxe
pro Person / pro Nacht
"Alpenglühen" (Suite)
| Half pension
Ortstaxe
pro Person / pro Nacht
"Der Pinzgauer" (Juniorsuite)
| Half pension
Ortstaxe
pro Person / pro Nacht
"Bergglück" (Juniorsuite)
| Half pension
Ortstaxe
pro Person / pro Nacht
"Spielberg" (Juniorsuite)
| Half pension
Ortstaxe
pro Person / pro Nacht
Our Riederalm "Good Life" inclusives:
Riederalm-gourmet- comfort board (breakfast buffet, afternoon snack, 5-courses dinner with 4 main courses to choose in the evening)
Use of our Wellness area - 2.000 m²
Use of our deep-level-garage
all our Riederalm-facilities
Saalfelden Leogang Card with many benefits
Prices excl. local tax of € 2,00 per night
Kamers/Appartementen
Betalingswijzen

Cash, bank Transfer, EC-bank-Card, VISA, MasterCard