...mein romantisches Hotel Toalstock Fiss
- Fiss
...mein romantisches Hotel...
© 2013 - [Dark]Fire
© 2013 - [Dark]Fire
© 2013 - [Dark]Fire
hotel

70 Bedden, 35 Kamers

Familie Schmid
Your unforgettable break in the
Wellness Hotel Toalstock in Fiss.
The cozy- & wellness-hotel in Fiss - for true connoisseurs, wellness enthusiasts and alpinists who love something special.
A place to immerse yourself and relax, to switch off and enjoy. A break that becomes something very special and unique moments of happiness that stay in the heart. In the 4-star Hotel Garni Toalstock in Fiss, you float at 1,436 meters above sea level and experience a holiday home that leaves nothing to be desired.
Romantic flair meets alpine chic, combined with authentic hospitality and loving service, we create a wonderful atmosphere in our wellness hotel in Tyrol to feel good. Charming rooms and suites, heavenly wellness moments and an exquisite breakfast buffet awaken culinary delights and round off your holiday in Serfaus-Fiss-Ladis perfectly. In our romantic hotel you can simply relax and enjoy the time, as a couple, as a family or with best friends.
The famous icing on the cake is of course the picturesque mountains that surround us. Embedded in the sun-drenched Serfaus-Fiss-Ladis high plateau, right in the middle of the idyllic village of Fiss and very close to the hiking and skiing area - explore the natural paradise in all its facets and look forward to adventures and great emotions, summer and winter.
A multifaceted winter wonderland for snow-loving connoisseurs and sporty winter fans.
Ski fans and winter sports enthusiasts have it particularly well with us at the 4-star Hotel Garni Toalstock: Centrally located and right in the middle of the colourful village life of Fiss, you can enjoy the wonderful proximity to the Serfaus-Fiss-Ladis ski dimension during your skiing holiday in Fiss. Your unforgettable skiing adventure awaits you just 5 minutes' walk away. You can conveniently store your winter sports equipment in the ski depot at the valley station.
Where active relaxation and pure winter fun know no bounds.
Nothing but the wonderful silence of the wintry landscape. Glittering snow slopes as far as the eye can see. And a thousand possibilities to experience the winter landscape of Serfaus-Fiss-Ladis from its gentle side. Enjoy your winter holiday in Tyrol to the full with winter hiking, cross-country skiing, sledding, ice skating or guided snowshoe hikes.
Kamers/Appartementen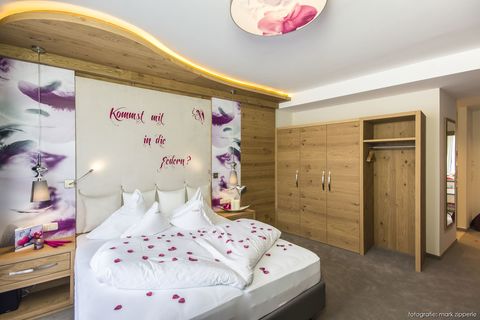 Herzblatt-Suite
Junior Suite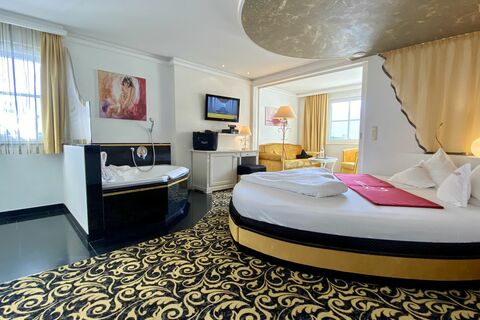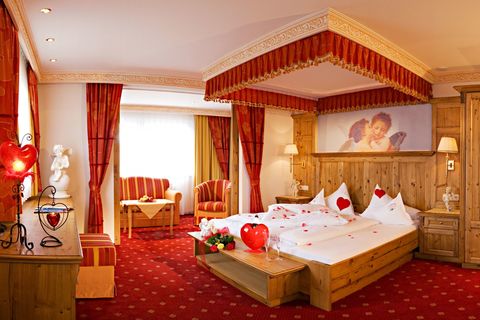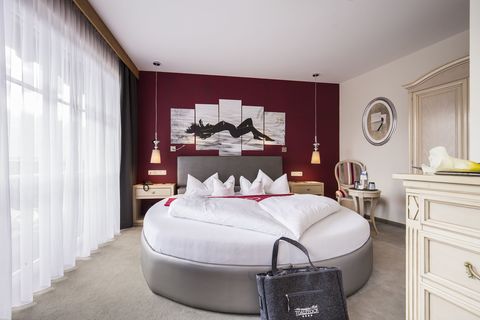 Paradise-Suite
Junior Suite

Romantic-Room
Double Room
Beschikbaarheid
op aanvraag
beschikbaar
niet beschikbaar
We would be happy to send you a non-binding offer!
Visit our second romantic hotel in Ladis: Romantik & Spa Alpen-Herz "Adults only":
mei 2023
KW
ma
di
wo
do
vr
za
zo
1
2
3
4
5
6
7
8
9
10
11
12
13
14
15
16
17
18
19
20
21
22
23
24
25
26
27
28
29
30
31
november 2023
KW
ma
di
wo
do
vr
za
zo
1
2
3
4
5
6
7
8
9
10
11
12
13
14
15
16
17
18
19
20
21
22
23
24
25
26
27
28
29
30
mei 2024
KW
ma
di
wo
do
vr
za
zo
1
2
3
4
5
6
7
8
9
10
11
12
13
14
15
16
17
18
19
20
21
22
23
24
25
26
27
28
29
30
31
meer tonen
Aanbiedingen Winter
met skipas / Skikorting / Winterpauschale
Gültig van 07.01.2023 tot 10.04.2023
Romantische vakantie / Korte vakantie / Winterpauschale
Gültig van 08.12.2022 tot 16.04.2023
Prijzen
Love Nest (Double Room)
pro Person / pro Nacht
| Frühstück
Ortstaxe
pro Person / pro Nacht
Haustiere
max. 2 zulässig
+ 20,00 €
pro Aantal / pro Nacht
Herzblatt-Suite (Junior Suite)
pro Person / pro Nacht
| Frühstück
Ortstaxe
pro Person / pro Nacht
Haustiere
max. 2 zulässig
+ 20,00 €
pro Aantal / pro Nacht
Moonlight-Suite (Suite)
pro Person / pro Nacht
| Frühstück
Ortstaxe
pro Person / pro Nacht
Haustiere
max. 2 zulässig
+ 20,00 €
pro Aantal / pro Nacht
Angel-Suite (Junior Suite)
pro Person / pro Nacht
| Frühstück
Ortstaxe
pro Person / pro Nacht
Haustiere
max. 2 zulässig
+ 20,00 €
pro Aantal / pro Nacht
Paradise-Suite (Junior Suite)
pro Person / pro Nacht
| Frühstück
Ortstaxe
pro Person / pro Nacht
Haustiere
max. 2 zulässig
+ 20,00 €
pro Aantal / pro Nacht
Romantic-Room (Double Room)
pro Person / pro Nacht
| Frühstück
Ortstaxe
pro Person / pro Nacht
Haustiere
max. 2 zulässig
+ 20,00 €
pro Aantal / pro Nacht
Betalingswijzen
Cash, Debit-Card, Credit-Card (Visa or Mastercard)
Opmerkingen
Exquisite breakfast buffet:
Front cooking with omelets, egg dishes, bacon, sausages and pancakes
Crispy bread & pastries and sweet pastries
Sausage & cheese cold cuts, spreads, regional delicacies
Different types of cereals, jams and honey
Natural & Fruit Yoghurts, Fruits & Fruit Salad
coffee, tea, cocoa, vitamin juice bar
Time to relax:
Sauna Area: Finnish sauna, bio sauna, steam bath, infrared cabin, relaxation room, vitamin and tea lounge
indoor pool with counter current, bubble loungers, massage jets, underwater sound system, relaxation room
Unique rooftop spa lounge over the rooftops of Fiss with great view
Bathrobe, bath towels, slippers for the duration of your stay
Sports & activities in winter:
Comfort ski depot (Edelweiss) at the cable car station
Ski lockers with heated shoe and glove dryers, helmet rack
Ski passes can be bought directly at the hotel reception
Super Summer Card from June to October:
Use of the cable cars Serfaus-Fiss-Ladis
Including bus between the villages Serfaus-Fiss-Ladis
Hotel Activity Program:
Guided hiking tours
Guided bike & e-bike tours
Yoga sessions at the partner hotel Romantik & Spa Alpen-Herz
In winter guided snowshoe hikes
Also included in the price:
Free Wi-Fi throughout the hotel
Free parking (outdoor and garage spaces)
hotel

70 Bedden, 35 Kamers

Familie Schmid