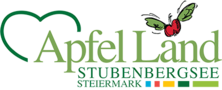 ApfelLand - Stubenbergsee
450 - 1.280m
Welcome!
The ApfelLand-Stubenbergsee - "GenussRegion" in Eastern Styria
Austria's largest fruit-growing region has a tradition of producing and marketing the apple. Dozens of restaurants conjure up delicacies ranging from apple foam soup to a must gravy and sophisticated desserts. The Apfelstraße connects the "Apfel-Genusswirte" with the apple farmers, the "Haus des Apfel" and the Apfeldorf Puch.
Castle, garden and the Wildlife Herberstein invite you to look and wonder all year round. The Stutenmilchgestüt Töchterlehof, the Kulm-Keltendorf and the Kneipp-Aktiv-Park Mittleres Feistritztal offer experiences and active recreation.
On the Stubenbergsee, the largest landscaped bathing lake in the country, the warm water, the 3 km long circular route and the family-friendly apartments, farms and innkeepers invite you to a relaxing and beach holiday from spring to autumn. The "Roman Wine Route" and the "Schlösserstraße" lead through the apple country. Herberstein is especially known for its wildlife, the castle and the Gironcoli Museum.
Every kind of accommodation, from the "Hotel im Schloss" to a farm holiday and many private landlords offer holiday offers in connection with hiking, biking or walking in the apple orchards and the lake.
A special way to discover the ApfelLand-Stubenbergsee is the silent gliding in a hot air balloon. Or a ride in the horse-drawn carriage of the "Schlosskutscher".
Returning is always in the must and Buschenschänken, where in addition to wine, cider and apple juice for "Brettljause" so many excellent brandy is served, especially the best apple brandy in the world, the "abacus", of 23 "apple men" in one ancient ritual is made.
The ApfelLand-Stubenbergsee -
a pleasure region for body, mind and soul!
---
---
Vrijetijdstips
ApfelLand - Stubenbergsee
---
Contact
ApfelLand - Stubenbergsee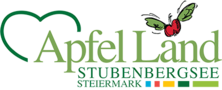 Tourismusbüro Tourismusverband- ApfelLand Stubenbergsee
Stubenberg am See 5, A-8223 Stubenberg am See
Telefoon

Fax

Homepage
E-Mail
Aanvraag en Brochure aanvragen Accommodatie
Plaatsen
ApfelLand - Stubenbergsee
Meren
ApfelLand - Stubenbergsee
Liftmaatschappij
Openingstijden zomer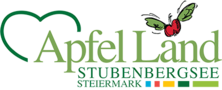 Accommodatie zoeken
ApfelLand - Stubenbergsee
20 Hotels, Vakantiewoningen...
35 Aanbiedingen en Arrangementen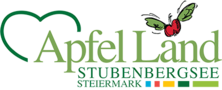 Sportaanbieders
ApfelLand - Stubenbergsee
Aanbiedingen en Arrangementen
ApfelLand - Stubenbergsee
Webcams