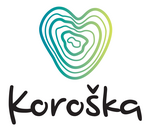 The Remšnik Mineral Museum
The Remšnik Mineral Museum is located in the premises of the Krajevna skupnost Remšnik (local community of Remšnik, address: Remšnik 3). In the museum, you can observe and explore different minerals that are visible to the naked eye and under a magnifying glass or a microscope.
The rocks of Remšnik thrust can reveal a history of 500 million years. In 1850 a silver-bearing lead, copper, and zinc mine Dravski gozd (Drava forest, German: Drauwalder silberhaltiger Blei, Kupfer und Zink Bergbau) located under the Dijak homestead in Remšnik started operating. In 1877 the new owner renamed the mine to Fresen Bergbau and the newly excavated tunnel under the Dijak homestead was called Janičkov rov (Janiček tunnel). The last excavations can be dated back to 1934. In 1870 a graphite mine was opened at Brezni vrh, as ore deposits were discovered on the east side under the Remšnik village. Graphite was excavated until 1964.
In the area of Remšnik mine 65 kinds of minerals were researched and described until 2013. The Remšnik ore consists of zinc ore (sphalerite), lead ore (galena) and copper ore (chalcopyrite). Many rare kinds or minerals were also discovered which give the Remšnik mine global importance.
You can also admire some of the rarest minerals in the world, such as beaverite, brianyoungite, carbonate cyanotrichite, langite, linarite, posnjakite and others. The author of the mineral collection Zmago Žorž has dedicated more than thirty years to the research of minerals.
The Remšnik Mineral Museum is part of a geological thematic trail – the Remšnik section runs along already existing paths between the border crossing Brezni Vrh and the abandoned mine under the homestead Dijak in Remšnik. While hiking on the trail, you will notice five monoliths (blocks of rock) that comprise the Remšnik thrust and wider surroundings. In front of the school in Remšnik there is an interesting play unit that teaches children about geology.
Contact: +386 2 62 12 520 (reception), 041 412 855
Open: Organized tour is possible upon prior arrangement at Museum Radlje ob Dravi, individuals that wish to visit the exhibition are welcome to inquire at the nearby bar or shop (Remšnik 3).
Location: Remšnik 3, Podvelka
E-mail: info.sg@kpm.si