© ANDRE SCHOENHERR - Andre Schönherr
© ANDRE SCHOENHERR - Andre Schönherr
© Hasselblad X1D
© ANDRE SCHOENHERR - Andre Schönherr
© ANDRE SCHOENHERR - Andre Schönherr
© ANDRE SCHOENHERR - Andre Schönherr
© ANDRE SCHOENHERR - Andre Schönherr
© ANDRE SCHOENHERR - Andre Schönherr
Worm welcome at Naturhotel Waldklause!
Summer in the Oetz Valley, Room for various kinds of sports
Other parts of Tyrol secretly envy the Oetz Valley for it is home of the country's tallest mountain, the Wildspitze. The largest glacier area of the eastern Alps is located in the Oetz Valley, too!
Where is the location of the highest, inhabited village?
It is located in the Oetz Valley and is called Obergurgl.
Where is the location of the Pigurger lake, a jewel of nature and one of the warmest lakes for bathing in Tyrol?
In the Oetz Valley, Tyrol.
More remarkable facts on the Oetz Valley:
The entire massif of the Alps located in the Oetz Valley is home of about 250 mountains that are 3.000 metres high, 60 of them peaking to 3.400 meters!
Hiking paradise Oetz Valley
If you think the Alps of the Oetz Valley can merely be mounted by climbing experts, you are mistaken!
The Oetz Valley offers an immense variety of hiking and subsistence opportunities. Enjoy hiking on over 1.300 km of marked hiking trails with welcoming Alpine cabins and snack-bars.
Green meadows, forest glens and the unique alpine flora are the ideal background for hiking and Nordic walking in the Oetz Valley. Tyrol is the El Dorado for mountaineers!
Traditional and active adventures in the Oetz Valley
Canyoning in deep gorges, free-climbing on steep cliffs, whitewater rafting in brawly currents or high mountain climbing over glaciers with climbing irons thrill people of all age!
Routes for mountain bikers are well signposted and novices in climbing ropes are just as welcome as tandem-paragliders who want to experience new dimensions. Have a go at mountain-biking and hiking in the Oetz Valley, Tyrol. Or do you prefer jogging along Tyrol's beautiful countryside? – Jogging in the Oetz Valley.
Numerous festivities such as mountain-, tent- and lake festivals along with traditional events (such as sheep and cattle drives, processions and mountain bonfires) enrich the residence in Oetzi's homeland in a most charming way.
Choose the Oetz Valley as location for your outdoor activities! Enjoy your vacation at the Naturhotel Waldklause!
We are looking forward to welcoming you soon!
Yours family Auer
Videos
01:01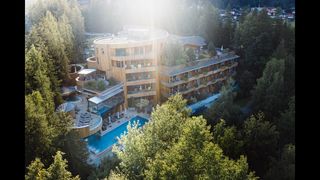 00:46
Prijzen