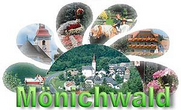 Aanbieding
Hotel Mönichwalderhof
© (C) Karl Schrotter
© (C) Karl Schrotter
Styrian autumn
Wandelvakantie / Genieterskorting / Herbstpauschale
Geldigheid

22.09.2023 tot 08.11.2023

Verpflegung

3/4 Pension (HP+Nachmittagsjause)

Beschrijving

When the leaves change color, the smell of roasted chestnuts is in the air and the first "Sturm" bottle is opened, then autumn is back in Mönichwald.

3 nights incl. half-board plus
Free use of the indoor pool with wellness area
1 welcome drink: glass of "Sturm"
1 traditional Styrian snack "Jause" on sunday evening
1 soothing aroma stroke for adults (40 min.)
Homemade chestnuts for your walk
1 hiking map for the region "Joglland-Waldheimat"
hotel

76 Bedden, 44 Kamers

Familie Radits & Konrath

Karnerviertel 10, 8252 Mönichwald - Reisroute