SneeuwwaardenVandaag, 06:55
Persönliche Auskunft: +41 58 200 68 68 oder besuchen Sie uns auf www.andermatt-sedrun-disentis.ch.
Liften
Diensttijden Winter
Seizoen

18.11.2023 - 14.04.2024

Operatie

09:00 - 16:00
Gemsstock
jeweils von 8.30 Uhr bis 16.00 Uhr
Durchgehender Betrieb 18. November 2023 bis 14. April 2024
Andermatt-Sedrun
jeweils von 8.30 Uhr bis 16.15 Uhr
Durchgehender Betrieb 16. Dezember 2023 bis 7. April 2024
Valtgeva
jeweils von 9.00 Uhr bis 16.00 Uhr
Durchgehender Betrieb 16. Dezember 2023 bis 7. April 2024
Angaben ohne Gewähr
Pistes
licht

18 km

gemiddeld

40 km

moeilijk

12 km

totaal

70 km
Skigebied
Andermatt+Sedrun+Disentis have taken the Swiss cross in the flag literally and turned it into a plus for the winter experience. In addition to skiing, guests can discover another plus for winter in every respect. Be it special piste highlights, a descent on the untracked freeride slopes or the wide range of culinary delights. These range from specially set up children's corners in the family restaurants to rustic pubs and sun terraces with a mountain panorama.
Board the train at every valley station
After a day of skiing, if you're too tired to return on skis, you can comfortably board the Matterhorn Gotthard Bahn - the train ticket is included in the ski ticket. If you're lucky, you can catch the Après-Ski-Express and enjoy a drink or a tasty snack during the journey. The après-ski trains run twice a day in winter between Andermatt and Disentis.
KidsArenas
In the Matti KidsArena on Nätschen, the Druni KidsArena in Sedrun and the Saxwiese in Disentis, snow rookies find their own playground. Magic carpets, practice slopes, a snow playground and the funny mascots make the first runs a pleasure. And because so much fresh winter air and romping around in the snow makes you hungry, the children's restaurant is very close by.
Freeriding
Especially the almost 3'000 m high Gemsstock and the Disentis area attract with great options for freeriders. From the Gemsstock, routes in all directions and numerous variants lead back into the valley. Untouched slopes with lots of powder, natural drops and jumps await experienced deep-snow fans.
ACE Snowpark
A paradise for freestylers is the ACE Snowpark below the Gütsch. It is redesigned every year and offers kickers with 10 to 15 metres, boxes, special waves, rail downs, snowpark tubes and much more. There are no limits to the creativity of the freestylers on three lines with different levels of difficulty.
Winter hiking
To the left and right of the alpine slopes, there is a wide range of snow activities on offer. Those who want to enjoy the winter without any frills will find relaxation on the winter hiking trails. From Andermatt to Disentis there is a several kilometre-long, well-prepared network of paths.
Sledging
Sledging fans get their money's worth here: there is a choice of the gentle Oberalp road to Andermatt, the exciting run from Milez into the valley or the toboggan run with a sensational view towards Disentis. Those who are not afraid of the ascent can walk from Realp to Tiefenbach on the Furka Pass. After the two-hour ascent, you can relax in the Tiefenbach restaurant and then tackle the rapid descent down to the valley in a stronger position.
---
Contact

Andermatt + Sedrun + Disentis Marketing AG
Gotthardstrasse 110, CH-6490 Andermatt
Telefoon

Homepage
Aanvragen
---
Contact Toeristenkantoor
Sedrun Disentis Tourismus
Via Alpsu 64a, CH-7188 Sedrun
Telefoon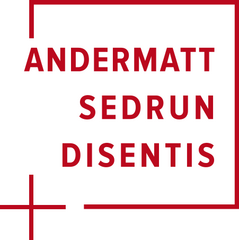 Accommodatie Andermatt - Oberalp - Sedrun
5 Hotels, Vakantiewoningen...
Webcams