The mountains, and Méribel in particular, offer flavours, glimpses, gustatory and sporting or contemplative pleasures which give it its so select and elegant character.
After the Mediterranean sun, the freshness of the Cembrian pines invigorates the body, mountain biking with the family or freeriding with friends wakes up the muscles, while the magic shows bring back childhood memories and golf soothes the mind.
For nature lovers, the Vanoise National Park and its glaciers located a few kilometres from Méribel-Mottaret as well as the Tuéda Nature Reserve, the largest in Europe of Cembros Pines, offer more than 500 kilometres of marked trails for full days in harmony with nature.
Spending your holidays in Méribel means choosing to take the time to live to the rhythm of the thematic weeks and the sun that embraces this magnificent Vallée des Allues, illuminating the Lauze-roofed chalets in the evening with a glowing light.
---
Contact Méribel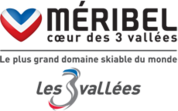 Méribel Tourisme
Maison du Tourisme - BP1, FR-73550 Méribel
Telefoon

Fax

Homepage
E-Mail
Liftmaatschappij Openingstijden zomer
Webcams