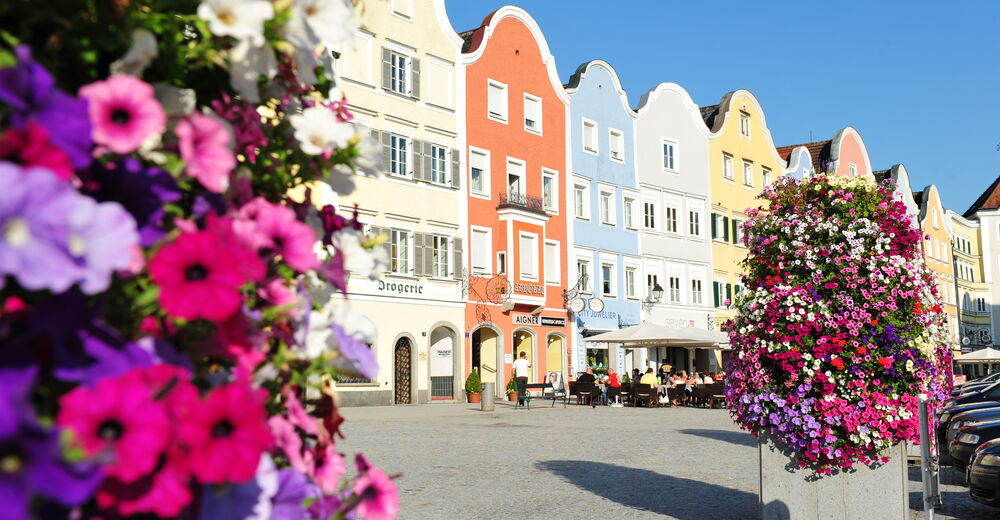 Extremely old and eternally young: Schärding manages the balancing act
The Upper Austrian baroque town on the Inn is worth a visit again in 2022
Anyone who thinks that Schärding has used up all its powder with the festivities for the town's 700th anniversary is mistaken: this year, too, the baroque town on the Inn offers plenty of reasons to visit it. With its markets, festivals and cultural events, the city is a popular destination for all those who love charm and flair.
Separated from Bavaria only by the Inn River, Schärding, often dubbed a baroque town, lives up to its name: it's a warm place to be, a place where people know how to live and celebrate. The more than 50 inns, restaurants, coffee houses and bars in this town of 5,000 inhabitants bear witness to this. Great importance is attached to enjoyment, be it over a good meal or a glass of beer, which has a long tradition here. The more than 400-year-old Baumgartner brewery provides the supplies, as does Captain Manfred Schaurecker, who brews beer in public on one of his Inn boats.
Relaxation & Entertainment
Those who prefer a quieter approach are in good hands at the Gesundheitshotel Gugerbauer or the Kurhaus der Barmherzigen Brüder. The two four-star establishments on the banks of the Inn provide their guests with renewed energy. Walking, hiking and cycling paths lead through the city and into the surrounding area. The "Via Scardinga", an interactive theme trail on the town's history, is particularly varied and interesting for young and old alike. Built in the jubilee year 2016, an extension is planned for this year.
Anyone who wants to learn more about Schärding can be accompanied by a city guide. There are many different guided tours (including one with a night watchman), with the focus on enjoyment and history. A new addition to the programme is a "Curiosity Tour", which features particularly amusing and largely unknown stories from Schärding. Many of the tours can be booked all year round.
---
Vrijetijdstips Schärding
---
Contact Schärding
Tourismusverein Schärding
Innbruckstraße 29, A-4780 Schärding
Telefoon

Fax

Homepage
E-Mail