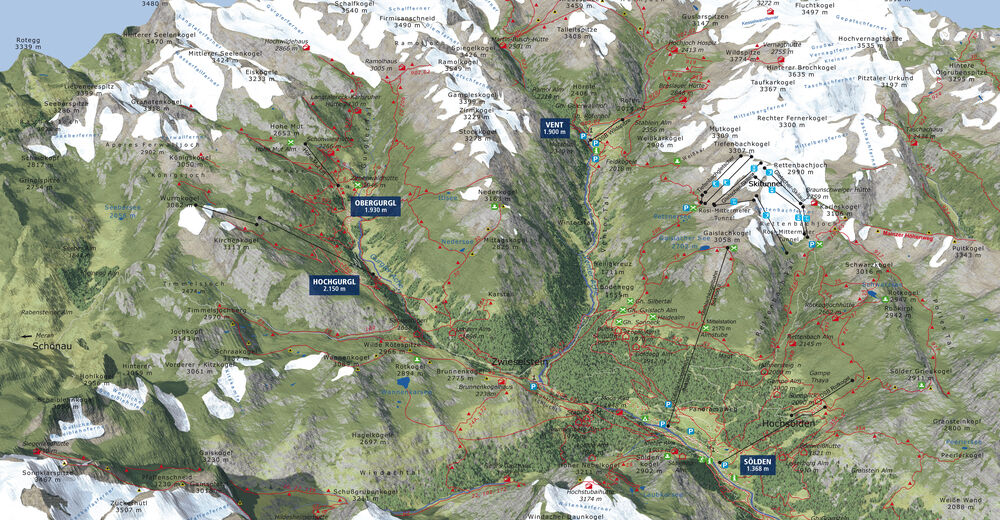 The Hotspot of the Alps: Sölden
In the summer Sölden is a mountain sports paradise par excellece offering an abundance of activities including mountain biking, paragliding, high alpine trekking as well as summer skiing and snowboarding on Rettenbach glacier and Tiefenbach glacier.
Going on a truly unforgettable hike to one of the fabulous peaks in the early morning sun, crossing the steep ridges, admiring the glittering Ötztal glaciers at dusk. Discover the variety of nature on your own: Alpine meadows in full bloom and grazing deer with the eternal ice fields as lovely backdrop.
Rushing Mountain Waters
Deep blue Alpine lakes await you along the ultimate "High alpine Ecology Trail" leading past Alpine roses and wonderful stone pines. Tirol's highest mountain, the Wildspitze peak (3,774 m) is towering high above the valley. A number of trails and paths take you either to Hauslabjoch (3,200 m) where Ötzi the Ice Man was found, or to one of the 600 surrounding mountain peaks - not less than 174 are higher than 3,000 m.
Furthermore, you can choose from 16 Alpine shelters, 30 mountain huts and inns, 21 crystal clear mountain lakes, 3 mountaineering schools, 47 certified mountain guides, 3 climbing gardens, 300 km of perfectly marked hiking trails and 112 glaciers, 2 of them offer state-of the-art skiing facilities.
Nature and Sports
Over the last years, Sölden has become an internationally renowned sports and training base for climbers, free climbers, white water fans, rafters, kayak slalom enthusiats, cross-country mountain bikers, paragliders and ice crevasse climbers.
---
---
Vrijetijdstips Sölden
---
Contact Sölden

Ötztal Tourismus - Information Sölden
Gemeindestraße 4, A-6450 Sölden
Telefoon

Fax

Homepage
E-Mail
Aanvraag en Brochure aanvragen Accommodatie
Liftmaatschappij Openingstijden zomer

Accommodatie Sölden
365 Hotels, Vakantiewoningen...
284 Aanbiedingen en Arrangementen

Sportaanbieders Sölden
Aanbiedingen en Arrangementen Sölden
Evenementen
26.01. - 28.01. dagelijks
Webcams