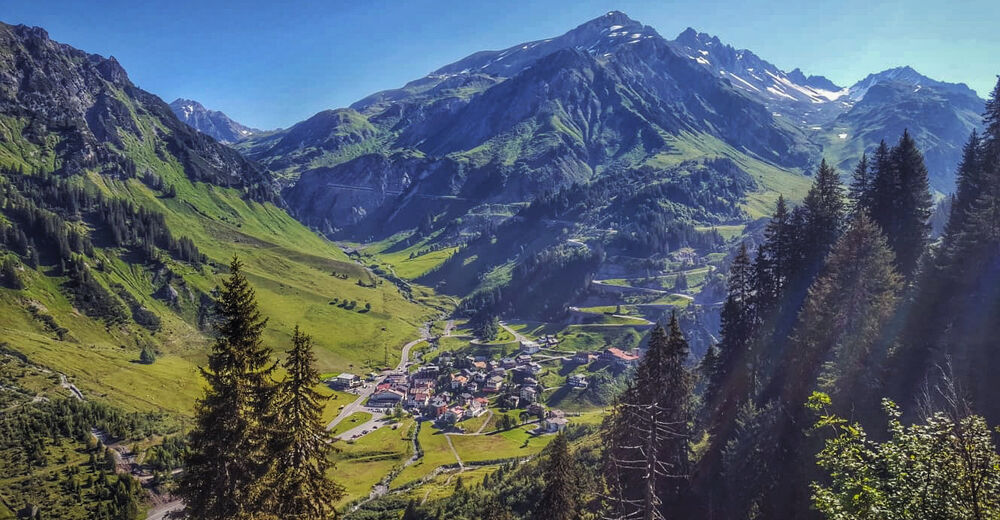 Stuben, the jewel on the Arlberg
HIGH-ALPINE SKI AND MOUNTAIN SPORT PARADISE
Summer fun in Stuben
Stuben has a lot to offer in summer and is the ideal starting point for a wide variety of activities. Whether you are a mountain biker, climber, angler or golfer, or a sporting group, nature lover or family with children: Stuben and its surroundings guarantee summer vacation fun with hikes, climbing tours, mountain bike tracks and children's adventure camps. Stuben is synonymous with numerous types of mountain and bike tour transport options and a relaxed atmosphere with top-class hosts. You will find comfort, romance, relaxation and wellness treatments here, not luxury and extravagance. Excellent food and drink in the Stubener restaurants and bars and the warm service will round off your vacation in Stuben am Arlberg perfectly.
Stuben (1410 meters above sea level) is one of the five stars of the Arlberg. Idyl and romance abound in the little village on the west side of the Arlberg. Stuben's local mountain, Albona, is one of the most magnificent north slopes of the Alps, which guarantees an abundance of snow in winter and the ultimate in hiking pleasure in summer. Active sportspeople as well as relaxation connoisseurs appreciate the quality of Stuben.
Stuben is the smallest of the five Arlberg resorts and a typical mountain village with 80 residents and 700 guest beds. Charm and idyl abound in the little village, which is sustained by the warmth and hospitality of its residents. Comfortable accommodation in 3- or 4-star hotels, comfortable bed-and-breakfast guesthouses, exclusive apartments or self-catering lodging at most a few minutes on foot away from the slopes or the hiking trails for guests interested in sport.
Varied range of sports on offer
The once painstaking traffic over the pass has transformed itself to qualitative tourism in Stuben. Having arisen hundreds of years ago from a warming lounge for merchants, pilgrims, royalty and townspeople, Stuben is very aptly named and maintains a high standard of authentic hospitality. The village has kept its village-like character and offers its guests comfort and ideal Alpine sports conditions. The traditional and the modern exist in perfect harmony in the ski and hiking paradise of Stuben: The birthplace of the skiing pioneer Hannes Schneider is both tranquil and extremely sports-oriented. Numerous options on and off the slopes invite you to try out super downhill runs and a huge number of different tours here in Stuben. Rapid downhill swishes, enjoyable wedeln turns, zippy carving and freeriding in deep snow ensure golden moments in the ski area on the Arlberg.
---
---
Vrijetijdstips Stuben am Arlberg
---
Contact Stuben am Arlberg

Tourismusbüro Stuben am Arlberg
Stuben 17, A-6762 Stuben am Arlberg
Telefoon

Homepage
E-Mail
Aanvraag en Brochure aanvragen Accommodatie
---
Contact Liftmaatschappij

Stubner Fremdenverkehrs-GmbH
Stubner Bergbahnen, A-6762 Stuben am Arlberg
Telefoon

Fax
Regio's Lech Zürs & Stuben am Arlberg
Liftmaatschappij Openingstijden zomer

Accommodatie Stuben am Arlberg
266 Hotels, Vakantiewoningen...
351 Aanbiedingen en Arrangementen

Sportaanbieders Stuben am Arlberg
Aanbiedingen en Arrangementen Stuben am Arlberg
Evenementen
08.12. - 09.12. dagelijks

08.12. - 10.12. dagelijks

15.12. - 17.12. dagelijks
Webcams