Langlaufen
Almenland - Teichalm Lifte & Loipen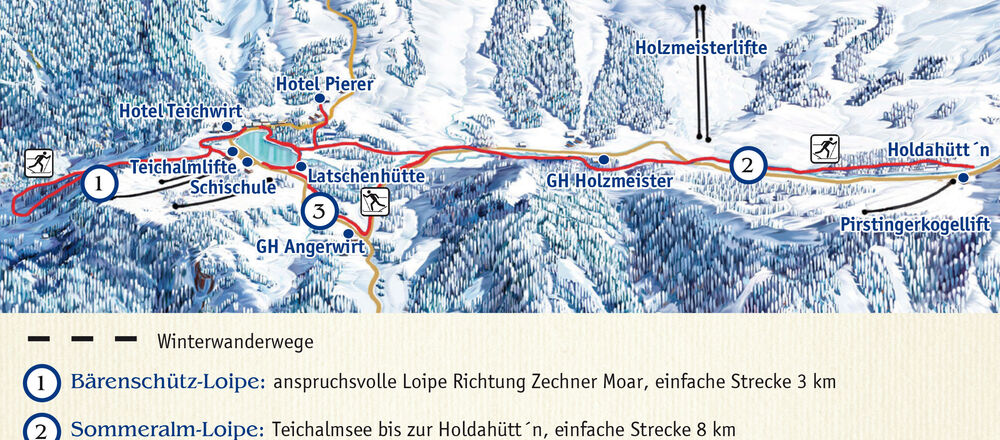 Loipes Gisteren, 11:02
Der voraussichtlicher Saisonbeginn bei den Almenland-Loipen verzögert sich, da die Loipentrasse noch nicht durchgefroren ist! Nähere Informationen gibt es im Laufe der Woche!
Huidige werking: geen melding
**On cross-country skis through the beautiful Almenland - Let's go!
The cross-country trails have a difficulty level of easy to medium. They are double-tracked for classic skiing and also have a skating track.
Bärenschütz cross-country ski trail - 3 km, easy trail (skating), challenging trail in the direction of Zechner Moar.
Sommeralm cross-country ski trail - 14 km, easy route (skating, classic), Teichalmsee to Holdahütt'n - Pirstingerkogel
Hochmoor trail - lap length 4.2 km (skating, classic), circular route Teichalmsee via Gasthaus Angerwirt, with snowmaking.
Translated with www.DeepL.com/Translator (free version)
---
Prijzen
Prices 2021/22:
Day ticket adult: € 6,00
Weekly ticket: € 25,00
Season ticket: € 80,00
Children up to 15 years free!
---
Mogelijkheden voor een drankje
Hotel Teichwirt 03179/7169,
Almwellness Hotel Pierer 03179/7172,
Latschenhütte 03179/7127,
Liftstüberl Teichalmlifte 03179/7177,
GH Angerwirt 03179/7121,
Holdahütt`n 03179/8164,
Stüberl Holzmeisterlifte 03179/7141.
---
Videos
---
Actuele loipeninfo
Website

E-Mail

Telefoon

+43 3179 23000-13 bzw. 3179-7177
Loipes Overzicht
2
klassieke loipes
21 km
Sommeralm-Loipe (16 km), Hochmoor-Loipe (4,2 km, mit Beschneiung)
3
Skating loipen
27 km
Bärenschütz-Loipe (6 km), Sommeralm-Loipe (16 km), Hochmoor-Loipe (5 km, mit Beschneiung)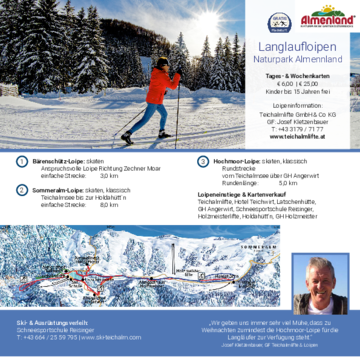 Diversen
Verhuur
Skischule und Verleih Reisinger bei den Teichalmliften am Teichalmsee, Tel: 03179/20 105 oder 0664/25 59 795.
Langlaufski Service

Contact Toeristenkantoor
Tourismusverband Oststeiermark, GS Naturpark Almenland
Adres

Fladnitz 100, A-8163 Fladnitz a.d.Teichalm

Telefoon

+43 3179 23000

E-Mail

Homepage
Meest populaire langlaufgebieden