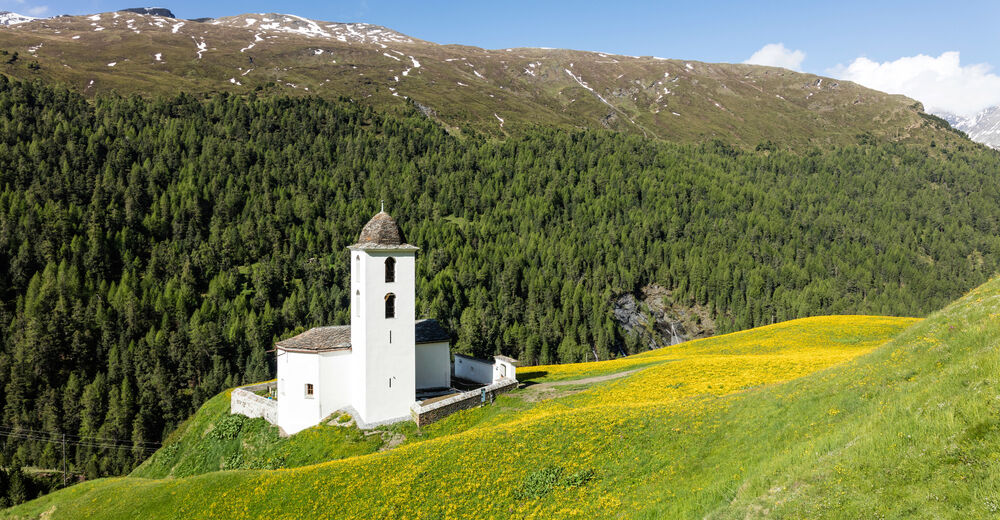 The municipality of Avers covers an area of 9'309 ha. Within it are 8 fractions, from Campsut (1'670 m a.s.l.) to Juf (2'126 m a.s.l.), the highest, year-round inhabited settlement in Europe. The main village of the municipality is Avers-Cresta, situated at an altitude of 1,958 m above sea level.
The history of the high valley of Avers goes back a long way. Although the discovery of a Late Stone Age hole axe in the upper valley of Avers and two early medieval graves in Avers-Cresta and Avers-Am Bach do not allow any conclusions to be drawn about a permanent settlement in this period, the valley will have been used as a transit area from very early on due to its location on the main ridge of the Alps.
The lower part of the valley (Campsut, Campsur, Cröt and Platta) was already inhabited by Romans in the 10th century, while the upper valley between Cresta and Juf only served as an extensive alpine area. The numerous Romanesque field names, especially in the Juf area, still give an indication of this settlement. The alpine-rich side valley of Madris was used by the communities of the south (Chiavenna and Plurs), although there are unlikely to have been permanent settlements.
Text: www.viamala.ch
---
Vrijetijdstips Avers / Ferrera
---
Contact Avers / Ferrera

Gästeinformation Viamala
CH-7447 Avers
Telefoon

Homepage
E-Mail
Aanvraag en Brochure aanvragen
---
Contact Liftmaatschappij
Avers Skibetriebs AG
CH-7447 Cresta (Avers)