Absam
632m
Absam - a destination for pilgrims
Popular culture, violin making and a religious tradition that is still very much alive dominate the picturesque Tyrolean village of Absam, nestling in the foothills of the Karwendel mountain range. The House of the Apparition − where in 1797 the 18-year-old Rosina Bucher saw a vision of the Virgin Mary in a pane of glass, from which it simply couldn't be removed − and the Pilgrimage Church elevated to basilica status in 2000, form the spiritual heart of this famous place of pilgrimage. In addition, anyone taking the Way of St James footpath in the Tyrol will pass through the pretty village. But it is not just pilgrims from near and far that like to visit Absam.
The famous violin-maker Jakob Stainer (1617 − 1683) lived and worked in this delightful village. The local history museum devotes itself in some detail to his life and his work – making Absam a place of pilgrimage for all violin enthusiasts too.
The fun really starts at Shrovetide, when the Absam "Matschgerer", colourful masked figures, take to the streets. Every four years there's a grand procession. But even in the intervening years visitors can witness their performances in the village and in the local taverns. If you wish to find more out about the history of Absam's Shrovetide customs and these weird and wonderful characters, such as the "Spiegeltuxer" and the "Zottler", then pay a visit to the Matschgerer museum.
Sports enthusiasts and nature-lovers will certainly not be disappointed by Absam. They will find it hard to resist the untamed, but still romantic Hall valley and the opportunity to explore such places as the Alpenpark Karwendel nature conservation park, 920 sq.km of pure, unadulterated nature. And of course it goes without saying that this unique area is one stage in the Eagles' Trail (Adlerweg), the new Tyrol-wide footpath.
Sport is in the blood of Absam's inhabitants. No fewer than seven Olympic champions come from the less than 7,000 residents of the municipality. The double Olympic champions in the luge competition, Wolfgang and Andreas Linger, count just as much as ski jump legends, Ernst Vettori and Andreas Felder, the Nordic combined athlete Christoph Bieler or Olympic champions Olga Pahl and Josef Feistmantl.
Important: The former toll road into the Halltal Valley is closed to public traffic. The redesigned car park at the entrance to the Halltal Valley in Absam provides approximately 200 parking spaces. There is also the option of a shuttle service, which goes as far as St. Magdalena or the Herrenhäuser barrier.
---
Vrijetijdstips Absam
---
Contact Absam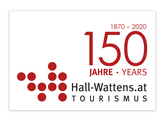 TVB Region Hall-Wattens
Unterer Stadtplatz 19, A-6060 Hall in Tirol
Telefoon

Homepage
E-Mail
Aanvraag en Brochure aanvragen Accommodatie
Plaatsen Ferienregion Hall - Wattens
Liftmaatschappij Openingstijden zomer
Accommodatie zoeken Absam
1 Hotels, Vakantiewoningen...
18 Aanbiedingen en Arrangementen
Aanbiedingen en Arrangementen Absam
Webcams