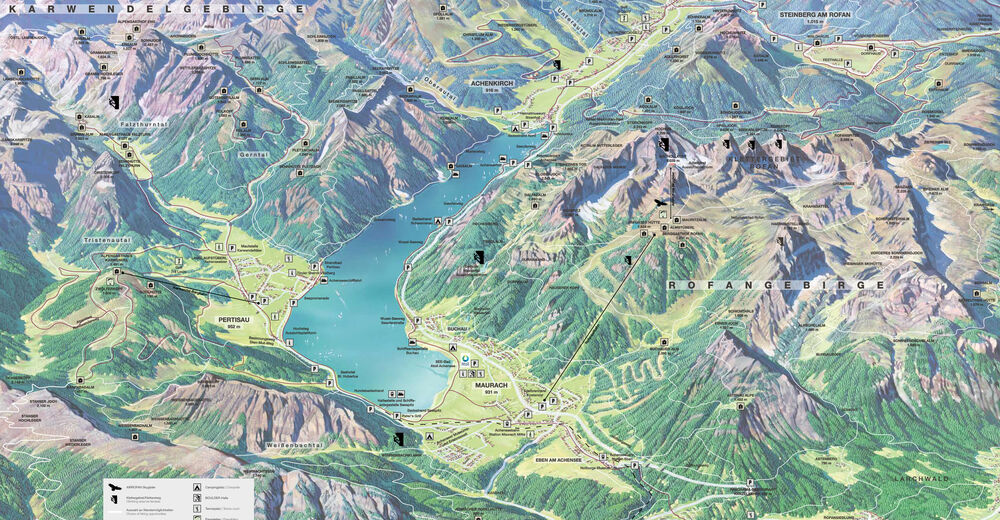 Wiesing am Achensee
"A wonderful little village in the fertile green of the Unterinntal landscape."
This is how Beda Weber, the founder of Tyrolean local history, enthused as early as 1837. The village is enclosed to the north by the steep, light limestone walls of the mighty Rofan Mountains, to the west by the gentle moraine hills of the Inn Valley Glacier and to the east by wooded mountain ridges. Wiesing's wind-protected location results in a mild climate.
For quite a long time Wiesing was a popular hunting ground
for the Tirolean sovereigns. Along the "Tiergarten" hiking trail,
there are still remains of a wall which was erected in the 16th
century by Ferdinand the Second as a fence around a game
enclosure.
Tirol's largest and most beautiful lake, the Achensee, is only a few minutes' drive from Wiesing. So nothing stands in the way of swimming fun. Wiesing is also a popular starting point for hikes into the Rofan mountains, such as to the Astenau Alpe or the Bayreuther Hütte.
Numerous accommodation providers offer free use of modern electric
bikes. Guests will receive the full equipment including a helmet, a rucksack with a small bicycle tyre inflator and a first aid kit plus the folder "E-bike village Wiesing".
---
---
Contact Wiesing
Infobüro Wiesing / Achensee Tourismus
Dorf 19, A-6210 Wiesing am Achensee
Telefoon

Fax

Homepage
E-Mail
Aanvraag en Brochure aanvragen Accommodatie